Quick Overview: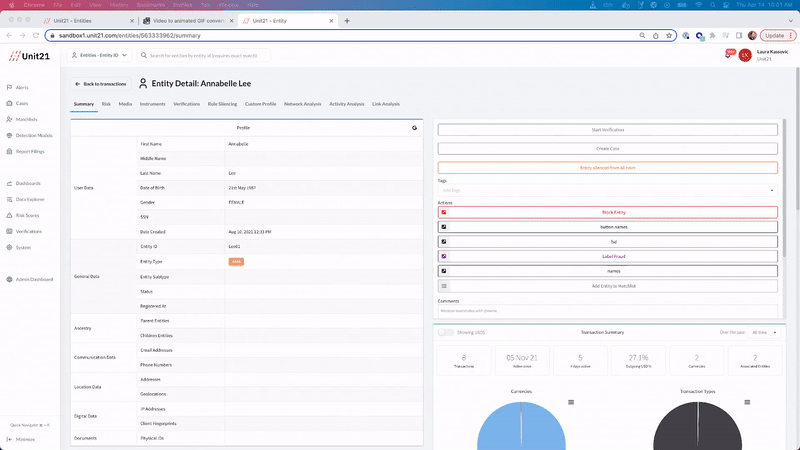 Entities are individuals or businesses that engage in *transactions* with your organization.
Entities can be:
Name: Sarah Smith
User ID: 9547-sngfB
Business Name: JHK Corp
An ID automatically created by your company: ja-945Jgd92N
Transactions occur between two entities:
Sarah Smith sent Paul Smith 5 ETH
$25,000 USD routed from Bank Routing # 072403473 to Bank Routing # 041215016
Sarah Smith deposited $5,000 USD to SVB Bank
User jarmin04 exchanged 1 BTC with user smith29
Suspicious transactions create alerts wherein entities can be investigated for fraud.
In the Dashboard:
To access information about an entity, go to the Data Explorer page and select the Entities tab: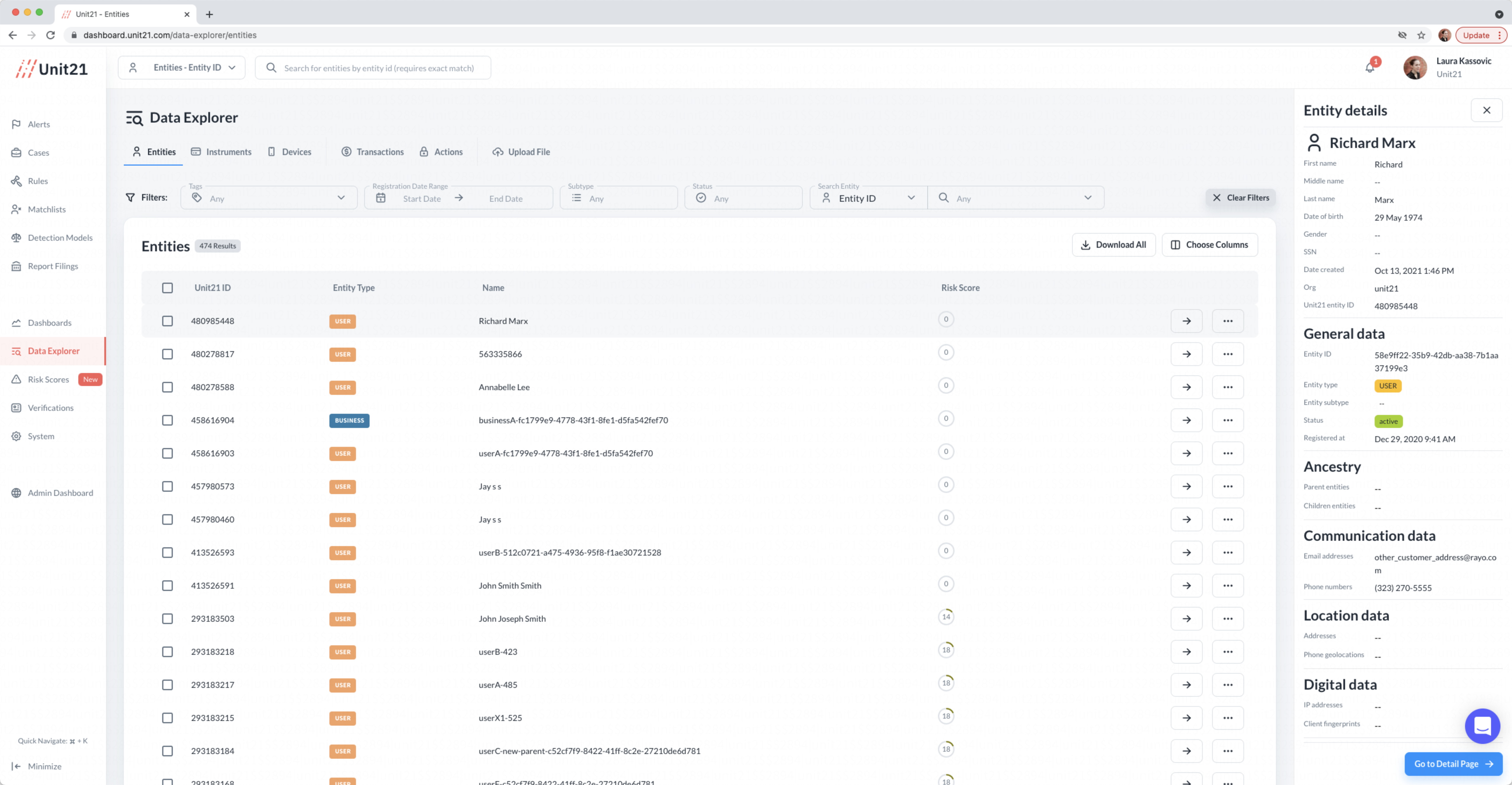 You can use the search filter to find the entity of your choice by name or ID.
To view additional information about the entity, select it from the search results. A pane in the left side of the window will open up where you can select Go to Detail Page >.
A new page will load with the entity's summary information:
Basic information
Related transactions
Transaction history and details
Action items (workflows, comments and tags)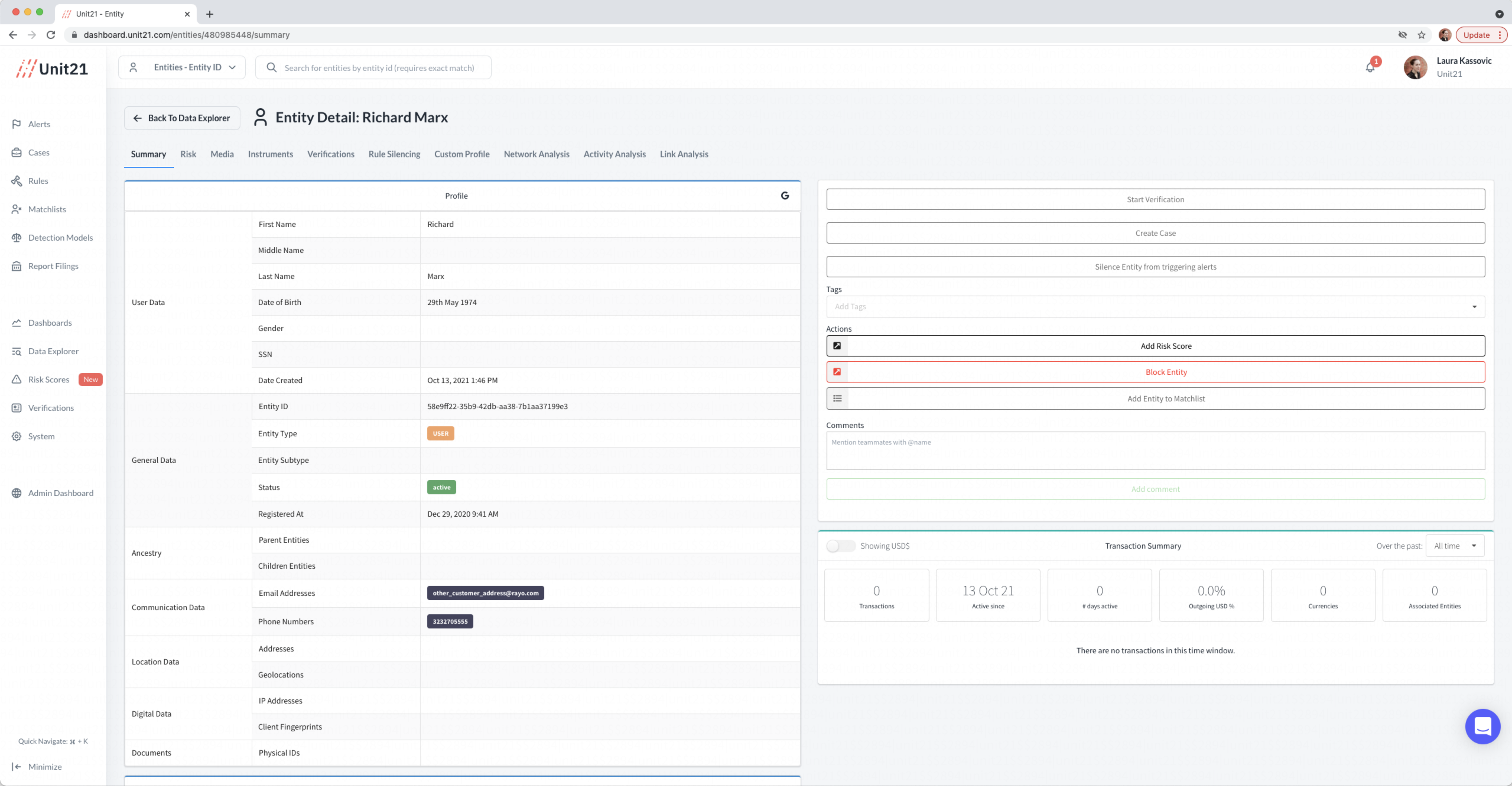 The page contains tabs with additional information:
Risk - risk score
Media - attachments added by agents
Instruments - related instruments
Verifications - KYC results
Rule Silencing - Rules where entity should be ignored
Custom Profile - Additional information
Network Analysis - Graphical relation to other entities
Activity Analysis - Graph of activity
Link Analysis - List of relation to phones, addresses, IPs, and instruments
Data Structure
These are some of the fields that describe an *entity* in the Unit21 system:
Field
Description
Example
entity_id
The unique identifier for an entity, as defined in your system

Corp-356-agh

entity_type
The type of user in your system. Must be either user or business

USER

entity_subtype
Extra information about how your organization classifies the entity

contractor

status
Status of the object on your system

active

first_name
middle_name
last_name
Full name of the entity

John Matt Smith

day_of_birth month_of_birth year_of_birth
DOB of the entity

23 12 1990

gender
Gender of the entity

male

SSN
Social security number of the entity

123-45-6789

business_name
The registered name of the business

Acme

corporate_tax_id
The TIN/EIN of the business

11-222-3333

email_address
The entity email address

jsmith47@company.com

phone_number
The entity phone number

+14159627132

address
The entity address

66 California Ave, San Francisco, CA 95103, USA